Lordi reveal lyric video for new digital single, 'Thing In The Cage'; new album »Screem Writers Guild« due out this month
3 March 2023
LORDI give us the creeps unveiling a new digital single, 'Thing In The Cage' today. Providing hard rocking "spooktainment," the song is accompanied by a lyric video which was edited by mastermind Mr. Lordi himself once again.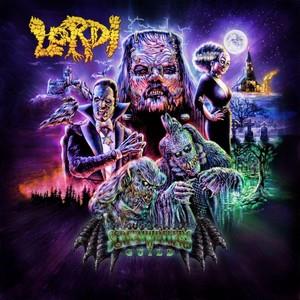 Tracklist:
Dead Again Jayne
SCG XVIII: Nosferuiz Horror Show
Unliving Picture Show
Inhumanoid
Thing in the Cage
Vampyro Fang Club
The Bride
Lucyfer Prime Evil
Scarecrow
Lycantropical Island
In the Castle of Dracoolove
The SCG Awards
Heavengeance
End Credits
Mr. Lordi states:
"This song was inspired by the old side shows, or freak shows if you will. Musically, with a different arrangement, this could have been a disco song and I think it still is one in its core, just the production is in the hard rock vein. But the bass line definitely keeps the disco vibe vivid here. As for the lyric video, we've never shown too much of making our costumes and masks, so it's a little peek behind the scenes… This video still doesn't show that much, but at least it might work as a little teaser to reveal how we get to be this pretty."
Finnish hard rock monsters LORDI will unleash their new studio album, »Screem Writers Guild« on March 31st, 2023 via Atomic Fire Records. Its title is a reference (and a "LORDIfied" play on words) to the "Screen Writers Guild," an association of screen writers in Hollywood ('20s to '50s), yet there is no doubt that LORDI's musical version is much louder and fiercer.
"The record itself isn't a real concept album, but it obviously plays with the overall cinematic theme," says Mr. Lordi.
Beginning next month, fans of the band will also get a chance of listening to the eerily bizarre and catchy hymns taken off »Screem Writers Guild« live since LORDI will finally embark on a European arena tour titled »The Tour To End All Tours« with SABATON and BABYMETAL. Find the band's full itinerary below and mark your calendars!
»Screem Writers Guild« was produced by Mr. Lordi with Mana and Janne Halmkrona as executive producers. Ilkka Herkman took care of its mixing and Pauli Saastamoinen mastered the record. The artwork was also designed by Mr. Lordi who has made a name as director for the band's vision since the early '90s.
The first single:
Lucyfer Prime Evil: https://youtu.be/Vbk3Pi67Wp0
Links:
https://www.lordi.fi/
https://www.facebook.com/LordiOfficial/
https://www.instagram.com/lordiofficial/
https://www.youtube.com/user/Lordiofficial
Source of Information: Barbara Francone – Atomic Fire Records
Elvenking Reveals New Single and Music Video "Bride Of Night", feat. former DRACONIAN singer Heike Langhans on guest vocals!
3 March 2023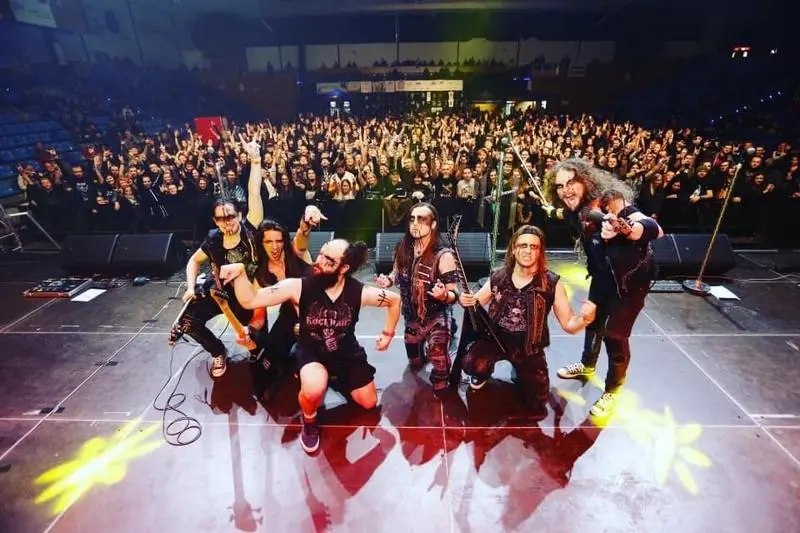 April 28, 2023 will see the masters of heavy metal, pagan, folk and melodic death metal, Elvenking, return to fantasy with their epic, new album "Reader Of The Runes – Rapture", through AFM Records! The band's eleventh studio album marks the sequel to their 2019 magnum opus "Reader of the Runes – Divination".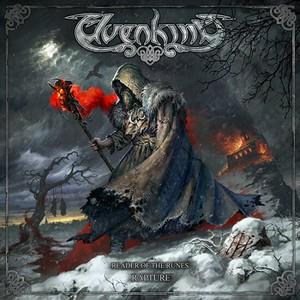 Tracklist:
Rapture
The Hanging Tree
Bride of Night
Herdchant
The Cursed Cavalier
To the North
Covenant
Red Mist
Incantations
An Autumn Reverie
The Repentant
Following previously-released album singles, "Rapture" and the epic anthem "The Hanging Tree", today, Elvenking have premiered a music video for "Bride Of Night", featuring former DRACONIAN vocalist Heike Langhans!
Says the band:
"We are proud to present our new song  and video "Bride of Night". It surely represents the more melodic side of our sound, yet dark and melancholic. We know that a lot of our fans love this side of Elvenking, so this is also a gift to you. "Reader of the Runes – Rapture" will collect all of the shades of our sound from the more aggressive ever, to songs like Bride of Night so, by listening to the entire album you will travel through a multitude of nuances and atmospheres – we cannot wait for you to hear it in all its epicness!
Heike Langhans offered her beautiful voice in the chorus backing Damna vocals. The amazing video is once again directed by Matteo Ermeti who did with us "Silverseal" and he couldn't better envision the story – a glimpse of painful romance that captures one of the chapters of the story."
On their forthcoming album, Elvenking set sail to horizons more distant than ever before, boldly taking the world by storm with their quintessentially unique approach to heavy, powerful music.
As guitarist Aydan and vocalist Damna recently commented:
"Part 2 is darker, it needed to be tragic and violent and this gave us the chance to fully breathe the soundscape we already had in mind as we started to write songs in early 2020. We feel that with this album, we have cast a milestone and set a further limit in what we can do by mixing wisely what we deeply love in metal. We are very satisfied with all the shades that compose these eleven songs; altogether they make a canvas we are very proud of."
Ever since their inception in 1997, Elvenking mastered their way to their own identity with courage and bravado, leaving behind the shackles of genres step by step before they truly broke out with their 2014 monument "The Pagan Manifesto". Elvenking have been defying all genres, now feeling quite at home in their very own enchanted realm.
With "Rapture", the Italian collective delivers part two of their monumental "Reader of the Runes" trilogy, and an epic metal quest of woe and despair, wrought with mysterious figures, dark magic and an altogether mesmerizing autumnal flair reminiscent of a forest glade during an Indian Summer.
It's more than just a metal album. It's a moving story set to fabulous songs, bridging the gap between fantasy and reality. Many times before, Elvenking have weaved powerful magic into the world. This time, they truly came into their own, wresting their best effort yet from a global pandemic.
"Reader Of The Runes – Rapture" was written between 2020 and 2022, and was recorded between May and October 2022 by the band and renowned producer Scott Atkins (Cradle of Filth, Behemoth) who also took over mixing and mastering duties.
Previsious singles:
Rapture: https://youtu.be/Cdq3ArS8A4o
The Hanging Tree: https://youtu.be/FKLcUzIcqK4
Links:
https://www.elvenking.net/
https://www.facebook.com/elvenking.official/
https://www.instagram.com/elvenking.official/
https://www.afm-records.de/
Source of Information: Mona Miluski – ALL NOIR
CRADLE OF FILTH Reveals New Track "She is a Fire" + Announces First Live Album in 20 Years, Trouble And Their Double Lives
1 March 2023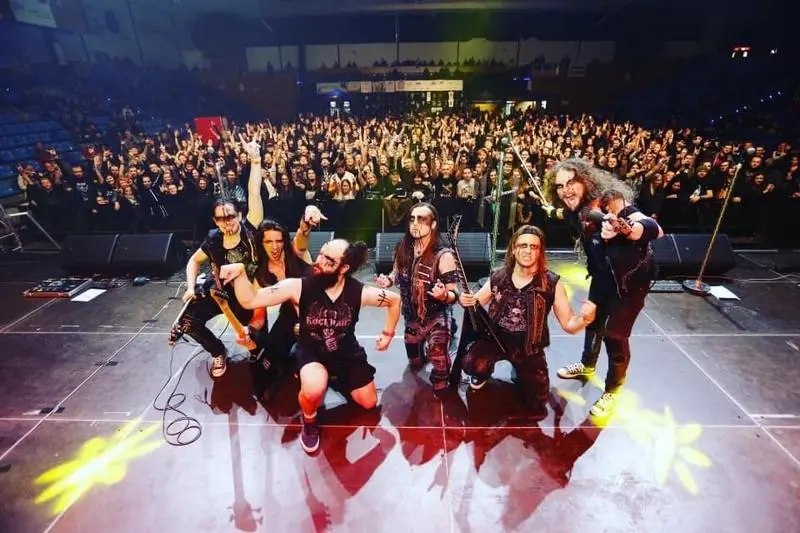 As fans anxiously await the studio follow up to CRADLE OF FILTH's highly-acclaimed 2021 full-length album, Existence Is Futile, the extreme metal legends led by iconic frontman Dani Filth have unleashed a thirst-quencher of epic proportions – their first live album to be released in over 20 years, Trouble And Their Double Lives, set for release on April 28, 2023 via Napalm Records.
Recorded between 2014 and 2019 at different performances in the USA, Europe, Australia and beyond during their "Cryptoriana World Tour" and dates following, the album serves as a time-capsule of blisteringly intense live energy, and an astounding testament to CRADLE OF FILTH's renowned latest era.
Produced, mixed and mastered by Scott Atkins at Grindstone Studios in Suffolk, England with recording captured by Danny B, the brand new live onslaught not only features a slew of fan favorites encompassing the band's electrifying discography – such as "Nymphetamine (Fix)", "Bathory Aria" and "Blackest Magick in Practice" – but also two bonus tracks and two entirely brand new songs, "She is a Fire" and "Demon Prince Regent".
Tracklist:
She is a Fire (new studio track)
Heaven Torn Asunder
Blackest Magick in Practice
Honey and Sulphur
Nymphetamine (Fix)
Born in a Burial Gown
Desire in Violent Overture
Bathory Aria
The Death of Love (bonus track)
Demon Prince Regent (new studio track)
Heartbreak and Seance
Right Wing of the Garden Triptych
The Promise of Fever
Haunted Shores
Gilded Cunt
Saffron's Curse
Lustmord and Wargasm (The Lick of Carnivorous Winds)
You will Know the Lion by his Claw (bonus track)
Trouble And Their Double Lives will be available in the following formats:
-2 CD Digisleeve
-2 LP Gatefold Black Vinyl
-2 LP Gatefold Silver Vinyl (European retail only)
-2 LP Gatefold MARBLED Orange Transparent Black w/ Slipmat – Napalm Records Store exclusive (limited to 500 copies)
-2 LP Gatefold GOLD – Napalm Records Store exclusive (limited to 500 copies)
-Deluxe Boxset (incl Wooden Box, 2 – CD Digisleeve, Patch, Pick tin, Keychain, Earplugs) – Napalm Records Store exclusive (limited to 666 units)
-Digital Album
Listen to the brand new, spine-tingling studio track, "She is a Fire":
The two new studio tracks provide a hefty taste of what's to come on future CRADLE OF FILTH studio releases! "She is a Fire" starts the album with a sinister riff, ominous atmosphere and spine-tingling keys. Dani Filth's renowned vocal delivery cascades in haunting screams and whispers atop hair-raising guitar leads and unrelenting drums.
"Demon Prince Regent" slams in with a wall of sound and grim, blackened guitar leads before reaching a headbanging, bouncing chorus. Dramatic, score-like symphonics encapsulate the melancholic anthem before leading into a speeding solo, proving itself as yet another CRADLE OF FILTH classic to be.
Make sure to grab your copy of this very special addition to the CRADLE OF FILTH canon while they last!
Dani

 

Filth

 adds:
"I would say a live record was long overdue, judging by the 20-odd year gap between this and our previous offering! It also serves as a great accompaniment to the forthcoming co-headlining 'Double Trouble Live' tour(s) with DEVILDRIVER, and strangely enough is also a notable gap-filler whilst we prepare our debut album for Napalm Records, due for mass excretion in 2024."
Links:
http://www.cradleoffilth.com/
https://www.facebook.com/cradleoffilth/?fref=ts
https://www.instagram.com/cradleoffilth/
http://www.youtube.com/user/cradleoffilthtv
Source of Information: Napalm Records Press
Dutch Death Thrash Legends LEGION OF THE DAMNED to Release New Album, The Poison Chalice, on May 26, 2023
27.2.2023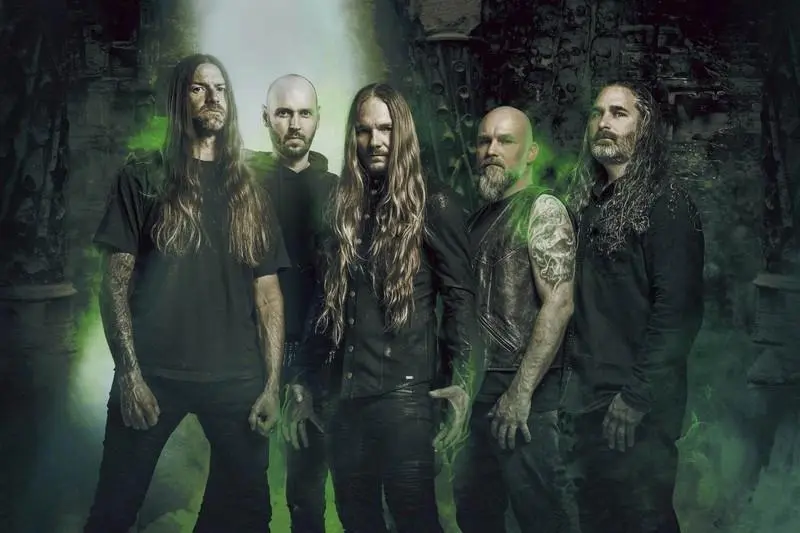 The LEGION slays again! Dutch thrash veterans LEGION OF THE DAMNED have once again entered into an alliance with the devouring depths of black and death metal and unleash another angry beast, The Poison Chalice, on May 26, 2023 via Napalm Records. The shredding monster delivers the most delicious pitch-black brew and tortures dark souls into demonic underworlds!
This day LEGION OF THE DAMNED unleashed the first single and video "Beheading of the Godhead". The intense and impressive official music video was crafted by renowned video production company Grupa 13 and stands out as one of the best videos of their career. The song takes the listener directly into the mind of a demonic magician that collects mankind's deepest fears and places itself on the same sphere as God.
Founded in 1990 as Occult, the thrash machine around founding members Maurice Swinkels and Erik Fleuren was reborn as LEGION OF THE DAMNED in 2005. On The Poison Chalice, the band unites with Fabian Verweij as second guitarist besides Twan van Geel and hails together with bassist Harold Gielen performing as a five piece for the first time ever on a studio album.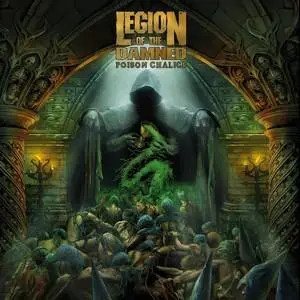 Tracklist:
Saints in Torment
Contamination
Progressive Destructor
Skulls Adorn the Traitor's Gate
Behold the Beyond
Retaliation
Savage Intent
Chimes of Flagellation
Beheading of the Godhead
The Poison Chalice
Bonus CD:
Werewolf Corpse – Live at Eindhoven Metal Meeting 2022
Pray and Suffer – Live at Eindhoven Metal Meeting 2022
Diabolist – Live at Eindhoven Metal Meeting 2022
Bleed for Me – Live at Eindhoven Metal Meeting 2022
Legion of the Damned – Live at Eindhoven Metal Meeting 2022
Intro/Slaughtering the Pigs – Live at Dynamo Metal Fest 2020
Doom Priest – Live at Dynamo Metal Fest 2020'
Place of Sin – Live at Dynamo Metal Fest 2020
Undead Stillborn – Live at Dynamo Metal Fest 2020
Intermezzo – Live at Dynamo Metal Fest 2020
Taste of the Whip – Live at Dynamo Metal Fest 2020
Slaves of the Southern Cross – Live at Dynamo Metal Fest 2020
The Window's Breed – Live at Dynamo Metal Fest 2020
Legion of the Damned – Live at Dynamo Metal Fest 2020
Dark Coronation/Outro – Live at Dynamo Metal Fest 2020
Watch the brutal music video for "Beheading of the Godhead"
Conquering the European charts for decades, the LEGION crowned itself at #17 in the Official German Album Charts with predecessor Slaves Of The Shadow Realms (2019). For almost 35 years, they have formed their aggressive signature sound from the most horrific ingredients of thrash and death metal, combined with brutal blackened influences, resulting in one of the most defined and unique sounds in the scene.
The Poison Chalice comes to life by spreading its eerily beautiful wings within the first few seconds, then dives headfirst into a hellishly furious storm before the second song "Contamination" absolutely kills. In classic LEGION OF THE DAMNED manner, there is no escape as the track relentlessly drives into the abyss.
The album spreads brutal and ice cold thrash soundscapes through relentless attacking drums and incredible guitar harmonies from both lead guitarists, underlined by angry bass lines. Infectious thrash treasures such as "Progressive Destructor", and the almost seven-minute berserk "Behold The Beyond" break necks with hammering guitar riffs and bloody double bass infernos. "Beheading of The Godhead" delivers what the song title promises, before the past 48 minutes of hate closes with a final deep gulp from "The Poison Chalice" – leaving no one behind.
Together with producer Erwin Hermsen, the band has closed the gates of the underworld in Toneshed Studio and demonstrates that they remain the unchallenged masters of brute and unrelenting death-thrash metal in 2023!
Links:
http://www.legionofthedamned.net/
https://www.facebook.com/LOTDOfficial/
https://www.instagram.com/legion_of_the_damned_official/
Source of Information: Napalm Records Press, Foto: Stefan Heilemann