Virgin Steele – new album
24. May 2023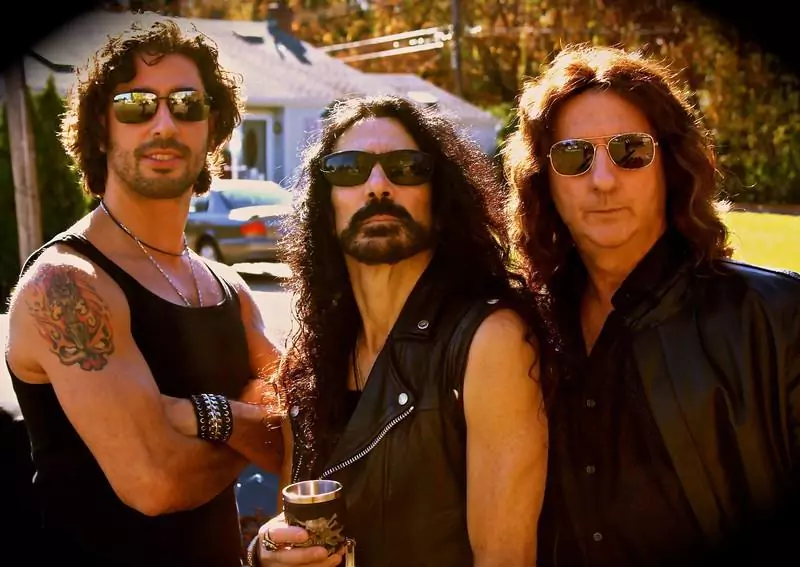 At a time when cultural innovation is being side-lined as never before and many unusual forms of music are succumbing to the temptation of the commercially more lucrative mainstream, Virgin Steele are the shining silver lining.
For over 40 years, mastermind David DeFeis has kept one of the most imaginative bands in the power metal genre on track with his excellent songwriting and charismatic voice. At the same time, DeFeis has never stopped evolving as a composer, musician and producer, updating his symphonic-tinged sound with exciting new influences. He has already accomplished this many times over with classics like 'Invictus' (1998), 'The House Of Atreus I & II' (1999/2000) or 'Visions Of Eden' (2006).
In his current album 'The Passion Of Dionysus', DeFeis surpasses himself in his unbridled creativity. Eight years after the acclaimed studio opus 'Nocturnes Of Hellfire & Damnation' (2015), DeFeis` brilliant signature maneuvers the album through a gripping parable about control and freedom, creating another highlight of the Virgin Steele career.
'The Passion Of Dionysus' will be released on 30 June 2023 via Steamhammer/SPV as a digi-CD (including a poster), as a gatefold double LP and in digital form. Virgin Steele will also release three singles in advance.
As usual, DeFeis has chosen a downright epic theme that delves deep into the annals of human history, while maintaining a concrete reference to the present:
"The album deals with the concept of duality. Where something is both one thing and its opposite simultaneously", he explains the underlying message of the new record. "It obviously has to do with Dionysus and, as the title suggests, his "Passion" or suffering, and his coming to Thebes to avenge the slander of his mother, as well as punish the King of Thebes for denying his worship there. But that being said, more is going on." In 'The Passion Of Dionysus' DeFeis tells the epic struggle between the twin forces of control/restraint and freedom/release, as well as dealing with the question of "whether or not there is room in society for the irrational, the wild, the letting-go aspects of ourselves."
To showcase this exciting juxtaposition, the singer/multi-instrumentalist has produced ten new songs with a total playing time of more than 77 minutes, including the first single 'Spiritual Warfare', which will be released on 12 May 2023, followed by 'The Gethsemane Effect' on 2 June 2023 and – one week before the album release – the single 'Black Earth & Blood' on 23 June 2023.
All three songs already show the great musical and lyrical intensity of the new album, the basic concerns of which DeFeis states as follows:
"I am always exploring and striving to document what life is like for me and the people that I choose to spend time with. Because I am always trying to learn something, trying to forge ahead in all aspects of my existence, I discover things and I am able to bring what I discover out into the dark and light of the music I create."  
There is no doubt that David DeFeis is not only an ingenious composer and musician, but also a true visionary who – with his band – has the perfect medium at his disposal to evolve both humanly and culturally:
"I see Virgin Steele as a way of life. The band is my vehicle with which I traverse vast oceans of experience. We are always doing things our own way, on our own specific terms."
Looking at the grandiose 'The Passion Of Dionysus', it's no wonder at all that his fans accept this approach unconditionally!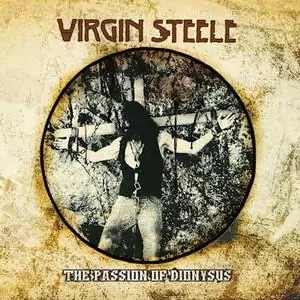 Tracklist:
The Gethsemane Effect
You'll Never See the Sun Again
A Song of Possession
The Ritual of Descent
Spiritual Warfare
Black Earth and Blood
The Passion of Dionysus
To Bind and Kill a God
Unio Mystica
I Will Fear No Man For I Am a God
Links:
https://virgin-steele.com/
https://www.facebook.com/VIRGINSTEELEOFFICIAL
https://www.instagram.com/virginsteele/
Source of Information: Bjoern Vonettingen – SPV
Ruthless – US Metal legend announces new studio album "The Fallen" and sign with Fireflash Records
24. May 2023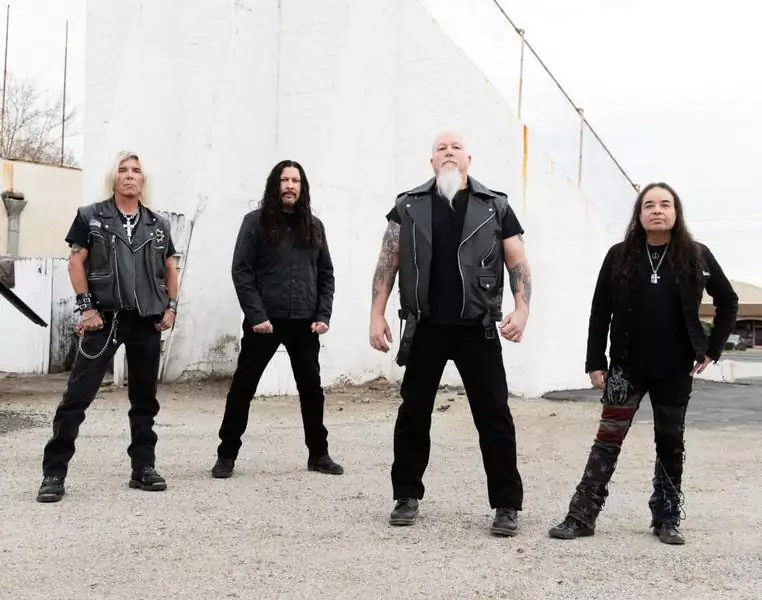 The name RUTHLESS in itself means "without mercy." Since the early 1980's, lead by vocalist Sammy DeJohn, the band has stayed true to its style of metal, from the classic first EP "Metal Without Mercy" (1984) and the debut cult album "Discipline Of Steel" (1986), to the current albums "They Rise" (2015)" and "Evil Within" (2019), they've never wavered on the power of bands like JUDAS PRIEST, ACCEPT and BLACK SABBATH, always staying true to their roots.
Today, RUTHLESS announce their fourth and new album "The Fallen", which will be released by the end of 2023 through their new record label Fireflash Records (HOLY MOSES, MEZZROW a.o.). "We are very honored and extremely excited to be partnering with Fireflash Records. The future is very bright", says vocalist Sammy DeJohn, who founded the band in 1982, and adds: "You can expect it to be very powerful with a throwback to the early days of the band. This album will give you everything Ruthless."
"We are proud to welcome this US metal legend to the Fireflash family", says label founder Markus Wosgien and adds: "When I heard the ten new tracks, the power and the passion combined with their straight and traditional 80s metal sound, it was a no-brainer to work with the band. Ruthless is an Underground legend, that deserves to be heard by any true metalhead and "The Fallen" is a future classic and a must-have for anyone who is into traditional heavy metal like METAL CHURCH, HELSTAR, EXCITER, LIEGE LORD and others."
The band has shown glimpses of the future as well as back to the beginning and offers a strong album with tons of highlights, produced by Bart Gabriel (CIRITH UNGOL, RIOT CITY, HEXX a.o.). With this line-up of original vocalist, Sammy DeJohn (1982 to present), drummer, Bob Guitrau (1986-2012 and 2021 to present), bass player, Sandy K. Vasquez (since 2016) and guitarist, Glen Paul (since 2021), RUTHLESS is ready to thrash the world once again!
Their last album Evil Within was released on 2019:
Links:
https://ruthlessband.com
https://www.facebook.com/ruthlessmetal/
https://www.instagram.com/ruthlessmetalband/
https://open.spotify.com/intl-de/artist/1BBwPZfFylxgKL48TsE04d
Source of Information: Markus Wosgien – Fireflash Records, Photo: Alex Solca
Type o Negative – new A.I. generated music video for "Halloween In Heaven"
22. May 2023
Today TYPE O NEGATIVE is unveiling a darkly captivating treat for World Goth Day! Immerse yourself in the ethereal realm of 'Halloween in Heaven' as A.I. breathes new life into the track. Written by the band for their friend Dimebag Darrell, the video features Dimebag alongside John Bonham, John Entwistle, Bon Scott, Randy Rhoads, Jimi Hendrix, John Lennon, George Harrison, Jim Morrison, Elvis and the Green Man himself, Peter Steele. Fans of the band will also spot a cameo from collaborator and friend of the band, Tara VanFlower (LYCIA).
Corinne Larre (Twisted Hooves Studio) who used A.I. and created the animated music video shared the following:
"When Nuclear Blast asked me to make this video using artificial intelligence, I was eager to explore the thousand possibilities offered by this new technology. I ended up using a combination of two platforms: one that generated images and the other transforming said images into video.
The lyrics left the field open to a lot of experimentation, leading to this universe both eerie and kitsch, which I hope pays homage to the band. The real challenge was the integration of legendary artists into this imagery. It's hard to explain to the A.I. the small details that make them unique as humans. In the end, hundreds, even thousands of iterations must have been made for this video!

As an artist, I think it is necessary to remain humble when using artificial intelligence as the topic has quite rightly caused some ethical debate in the creative world. In my opinion, these creations should not be seen as artistic works in their own right, but as the first steps of a technology that will revolutionize audiovisual creation in the coming years."
Links:
typeonegative.net
https://www.facebook.com/typeonegative
Source of Information: NUCLEAR BLAST – Kosmas Kokotas
Finnish Power Metal Act FROZEN LAND Premieres Music Video For New Single "Señorita"!
22. May 2023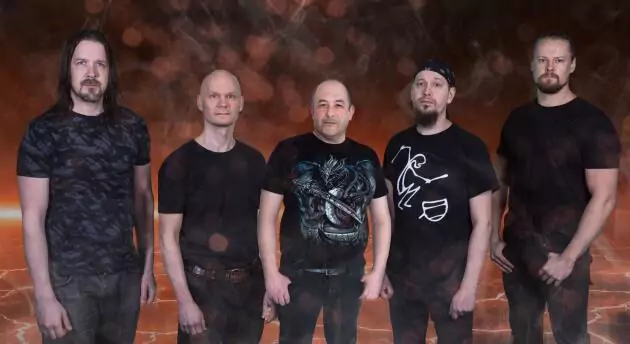 Five long years since the band's latest, self-titled offering, Finnish power metal masters FROZEN LAND return with a brand new studio album, entitled Out Of The Dark! The album will be released on June 16, 2023 via Massacre Records.
Out Of The Dark, is basically a 7-song cohesive ensemble in the traditional power metal genre. But on the last 2 tracks it gets even more exciting! It's not a secret, Tuomas has a perversion for 90's Eurodance, and on the last album the band already covered E-types "Angels Crying". Now, the band even created their own songs mixing Eurodance and metal.
But, don't take it too seriously… FROZEN LAND certainly doesn't! Let's give ear, following a previously-released, first single, the album opening track "King's A Bitch", today, FROZEN LAND have shared a music video for the song "Señorita"!

"This is the most meaningful track in Frozen Land's discography," the band comments. "The tune and lyrics came to Tuomas after consuming about 0.7l of vodka. It was an awesome night, the birth of "Señorita". They say the northern star shined extra bright that night. We feel that the song is our "baby Jesus", actually. From now on we celebrate the birthday of the song giving presents to each other. A little "Señorita" doll is also made and then crucified on a small cross."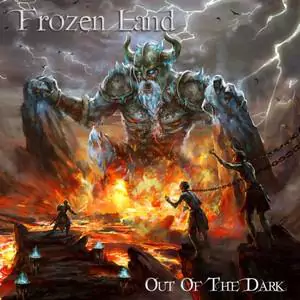 Tracklist:
King's a Bitch
The Prophecy
Dying of the Light
Don't You Ever Leave Me
The Northern Star
White Lightning
Out of the Dark
The Slayer
Señorita
Ide o skladbu Señorita:

The first single:
King's a Bitch: https://youtu.be/vATVnOxryBQ
Links:
https://www.facebook.com/Frozenlandband
https://spoti.fi/2J4eKKq
www.massacre-records.com
Source of Information: Mona Miluski – ALL NOIR, Photo: Hank J Newman and Fotolab Studio Italy, Cover: Andrey Vasilchenko