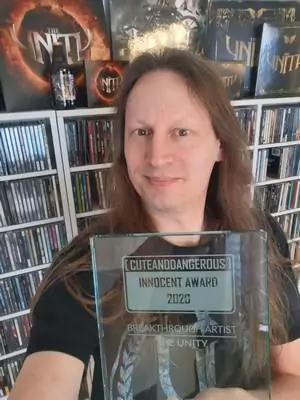 Michael Ehré is very bussy man. In the end of August his band The Unity released the fourth album The Hellish Joyride yet. They introduced new bass Tobias ,,Eggi" Exxel on it, who is known like bassplayer of Edguy. And on the first of September was released new record from the next formation, where he play. It is Primal Fear of course and title of their records is Code Red. Read this interview and we will know more informations.
Hello Michael. It is big pleasure for me talking after long time. From our last interview (2020 year) you have some changes in The Unity. The bigest is new bass player. Why Jogi left the band?
Michael: Jogi decided to concentrate on other things in life, so he left the band. Nothing spectacular happenend but as everybody in the band needs to give 100% there was no other way than to leave.
And how you did start cooperation with Tobias?
Michael: We know Eggi since The Unity toured with Edguy back in 2017. He already helped us out as our guitarist Stef wasn´t able to play a show in 2018 and later he also helped us when we toured with Rhapsody Of Fire in 2020 and Jogi wasn´t available.
When Jogi decided to leave the band in 2022 we immediatelly asked Eggi to help us out on shows we had to play. Later we talked about if he was interested in joining the band as a permanent member and here we are.
The Hellish Joyride
The second change is your fourth album The Hellis Joyride. I feelt that is your the most mature record. What do you think?
Michael: Yes, I think you´re right. We constantly try improve as musicians and as a band and I think that this is hearable on The Hellish Joyride. Our goal is to get better and better with each album and in my opinion we managed that.
Similar like on Pride you tried thinks, which you never do in past. I think Saints and Sinners with neoclassic guitar solo or ,,radio friendly" song Something Good (sounds like ,,Green Day").
Michael: Once again you´re right 🙂 We tried to extend the boundaries that our kind of music naturally has. In fact we´re not thinking in categories like Heavy Metal, Power Metal or Hardrock. We simply want to do what we want to and it doesn´t matter if it fits in those kind of categories as long as we have good songs.
When you did start creating proces of new song?
Michael: That is not easy to say as there was no real starting point. We all have demos or ideas on our computer, so we actually don´t have to start from nothing. Stef for example is a real songwriting-machine. He is constantly writing new music while I only start to compose when I have to. So everyone is slightly different.
Please, descrirbe the creating proces. Did you participe on it? Did Tobias participe?
Michael: Now that Eggi is in the band we have six songwriters. This is an absolutely luxury and probably the reason for the huge variety on this album. I contributed songs for the album as well as Eggi did. He wrote the music for "Stay The Fool", which has a cool mood and adds a new side to our music.
Before Eggi joined the band we had five songwriters and we released a new album every 1,5 years. Now as we´re six songwriters we can think about releasing our albums every year, hahaha….no….just kidding!
Title of new album is The Hellish Joyride. Has it special meaning?
Michael: Playing in a band or being a musician can be descriped as a Hellish Joyride. You have ups and downs. Producing an album always means a lot of stress, a lot of energy you have to put into your work. This can be hellish sometimes but being on stage presenting your music to the audience is pure fun – a joyride so to say.
You can also transfer the title into everybodys normal life, which can be kind of hell sometimes but also an awesome joyride.
Tell me something about your shows. Where you were play?
Michael: We play everywhere the people want us to play. We´d really like to tour all around the world but it´s not easy at the moment, especially after the Corona years.
Is there any chance to come back to Slovakia (so that I could finally see you too)?
Michael: I´m not sure at the moment. I hope so!
Primal Fear and Gamma Ray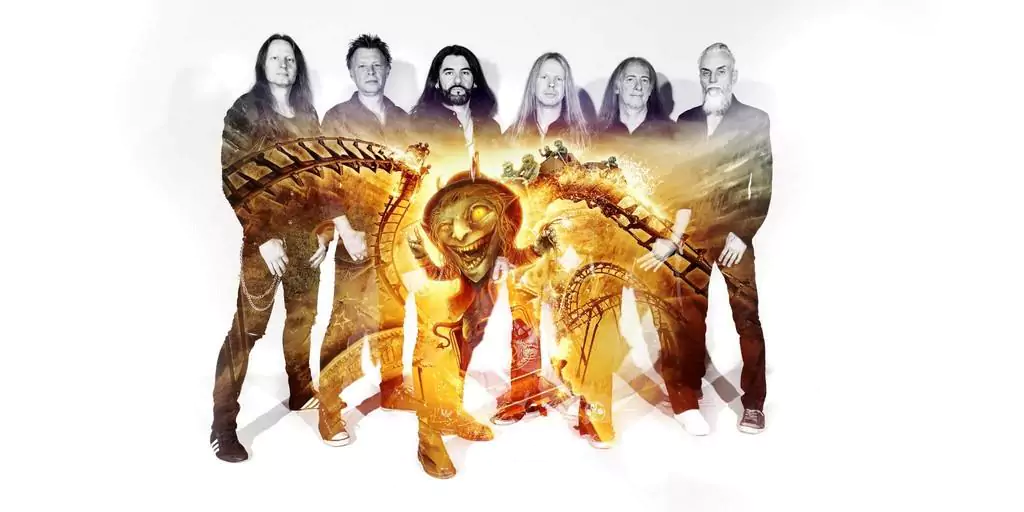 You also members of the Primal Fear. What can you tell about new album Code Red, which it will be released as soon?
Michael: Code Red is a fantastic metal album! It has all the Primal Fear-trademarks and sounds fresh and energetic! I´m really proud of this one. The reviews are awesome, so the people seem to like it, too! We´re playing a couple of songs from the new album on this tour and the people love it! It´s pure fun.
Did you participe on creating process of it?
Michael: Yes, I wrote the music for a song called "Fearless".
The similar questions like The Unity. Where you play shows?
Michael: We play everywhere you want us to play! We hope that we can play in as many countries as possible with the new album. But it´s not only up to us as we need promoters to believe in the band and book us. This is not that easy especially after Corona.
Right now we´re on tour with Primal Fear in Germany and Switzerland and we´re having a f…ing great time together! I wish we could play all around Europe in this constellation….
Is there any chance to return to Slovakia?
Michael: As I said: it´s not up to us! If you want us to play don´t hesitate to contact us and we´ll be there, hahaha
And expected questions. What about Gamma Ray? Do you have any news for us?
Michael: No, there are no news so far. Kai is busy with Helloween and all the other bandmembers have their lives, too…no idea, if, where and when we´ll come back together.
Present – future
What does your typical day look like nowadays when you're not in the studio or on tour?
Michael: This may sound a bit strange but I´m constantly working in the studio or on tour. My wife and me had a few days off last months which I really enjoyed. If I find the time I like to watch movies – no matter if it´s at home or in the cinema. My son and me are filmfreaks, so I´m in good company.
What does a person need to do in order to manage playing in both bands like you do?
Michael: Be organized, hahaha. On tour it´s a really physical challenge playing for both bands and giving constantly 100%. And it´s not only the shows but also two soundchecks each days.
Do you have any musical dream that you would like to fulfill?
Michael: Puh…hard to say…I played with a lot of bands and musicians in my career. I met a lot of my idols and I´m really, really thankful. So, as long as I´m able to make a living by being a musician and I´m healthy I´m happy.
OK, thank you very much for the interview and I'd like to ask you for some message for our readers.
Michael: I´d like to say thank you for your support! I hope to come to Slovakia as soon as possible!!! Stay Metal!!!
Youtube teaser:
The Unity:
Primal Fear:
Links:
https://www.unity-rocks.com/
https://www.facebook.com/unityrocksofficial/?fref=ts
https://www.instagram.com/unity.rocks/
https://theunity.bandcamp.com/
https://www.youtube.com/channel/UCusCvrsc3QuobIlQc1rM48w
Photo Michael: https://lnk.sk/apyy, Photo The Unity: Michael Stammwitz