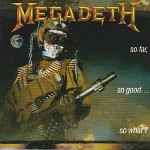 Tretí štúdiový album od amerických thrasherov vychádza v januári 1988. Presnejšie 19. januára. Nahrávky vznikali v roku 1987 a produkcie albumu sa ujali Dave Mustaine a Paul Lani. Na nahrávke sa nachádza osem skladieb a medzi nimi taktiež ako na predošlých dvoch albumoch aj jednu coververziu od britskej punk rockovej legendy.
Album otvára skladba Into the Lungs of Hell čo je vlastne inštrumentálka nesúca sa v ostrejšom tempe. Ostatné skladby ako nasledujúca Set the World Afire, 502, Hook in Mouth, coververzia Anarchy in the U.K. od punkových veteránov Sex Pistols a Liar sú kolekcia vkusných a jednoduchých thrashových skladieb ku ktorým patria ešte dva tak isto vkusné a na svoju dobu výborné skladby ako potemnelá Mary Jane a In My Darkest Hour venovaná zosnulej legende Cliffovi Burtonovi.
Album je skvelá a jednoduchá kolekcia znamenitých pesničiek, ktoré nesklamú fanúšika tejto znamenitej legendy.
Lineup:
Dave Mustaine- sólový spev, sólová a rytmická gitara
Jeff Young- sólová a rytmická gitara
David Ellefson- basová gitara, doprovodný spev
Chuck Behler- bicie nástroje, perkusie
Tracklist:
Into the Lungs of Hell
Set the World Afire
Anarchy in the U.K.
Mary Jane
502
In My Darkest Hour
Liar
Hook in Mouth
Hodnotenie: 4
Páčil sa ti tento článok?