Aj keď bol Prešov istý čas z hľadiska metal/rockových koncertov mŕtve mesto, od minulého roku sa to začína obracať k lepšiemu. Dôkazom toho bolo aj vystúpenie kapiel Gloom, Eufory a Thunderbell, ktoré sa konalo posledný septembrový deň v priestoroch multižánrového klubu Wave.
Koncert odštartovala mladá, pomerne neznáma, košická kapela Thunderbell. Tí vo svojej zostave mali okrem speváka/gitaristu Viktora Ivana, bubeníka Marek Železník  aj dve sympatické dievčiny – gitaristku Natáliu Bodišovú, basáčku Dominiku Fonyiovú.
Predviedli taký celkom obstojný old school heavy metal, kde okrem zaujímavých gitarových melódii ako sa na dobrý heavy metal patrí nechýbali ani zmeny rytmov (žeby po vzore Iron Maiden? 🙂 ). Osobne som mal trochu problém zvyknúť si na Viktorov spev, no celkovo koncert hodnotím pozitívne a rád by som si ho zopakoval.
Keď sa ešte trochu viac zohrajú, môžu byť pekným obohatením domácej metalovej scény.
Gloom
Napriek pôvodným plánom  došlo k menšej zmene programu, druhí nakoniec vystúpili domáci melancholici (resp. gotici) Gloom. Tí ako vieme boli dlho neaktívni, no minulý rok začali pracovať na návrate a tento rok im vyšiel comebackový album Catharsis, ktorý zaznamenal slušný ohlas.
Napriek tomu, že osobne tento štýl veľmi nevyhľadávam, samotný koncert musím len a len pochváliť.
Všetci členovia išli na sto percent a nechýbal ani dobrý zvuk. Pekne bolo počuť všetky nástroje, aj hlavný vokál Martina Pazderu. Menší problém bol iba s doprovodným vokálom klávesačky Bašky.
Spevák Martin (ktorému nechýbala správna dávka charizmy) dokázal strnúť ľudí na svoju stranu a tak ako všetci členovia si koncert nesmierne užíval (veď pri takom publiku sa ani ináč nedalo 🙂 ).
Hralo sa pochopiteľne hlavne z aktuálnej platne  (Souls Walk Apart, Fatal Trust…), ale priestor dostal aj ich debut Nostalgia z roku 2006 (Kiss To Goodbye (Farewell), Dead Romance)… V rámci prídavku odznel cover od Poisonblack – All Else is Hollow.
Eufory
Na adresu melodikov Eufory som počul viacero chvál, preto som bol na ich vystúpenie nesmierne zvedavý… No bohužiaľ som mal z nich pomerne rozpačitý dojem. Kapela je určte talentovaná, ľudia sa bavili síce od prvej skladby, no celé to kazil hlavne nekvalitný zvuk.
Spev zo začiatku nebolo takmer vôbec počuť, neskôr sa to zlepšilo no nebolo počuť ostatné nástroje (počuť bol len spevák, bubeníčka a nejaký náznak niečoho ďalšieho). Úplne dobre to nebolo ani do úplného konca. Z jednotlivých členov by som si dovolil pochváliť  hlavne speváka Ľuboša Senka. Aj keď mal zlomené rebro, predviedol celkom dobrý výkon.
V setliste sa okrem kúskov z debutu Flying Island Eufory (Flying Island Eufory, Book of Life…) objavilo aj niekoľko noviniek, ktoré sa objavia na chystanom nasledujúcom počine (What a Shame, Dancing Star). Podobne ako u Eufory aj tu sme mali na úplný záver cover, tentokrát notorický známy hit od Helloweenu – I Want Out.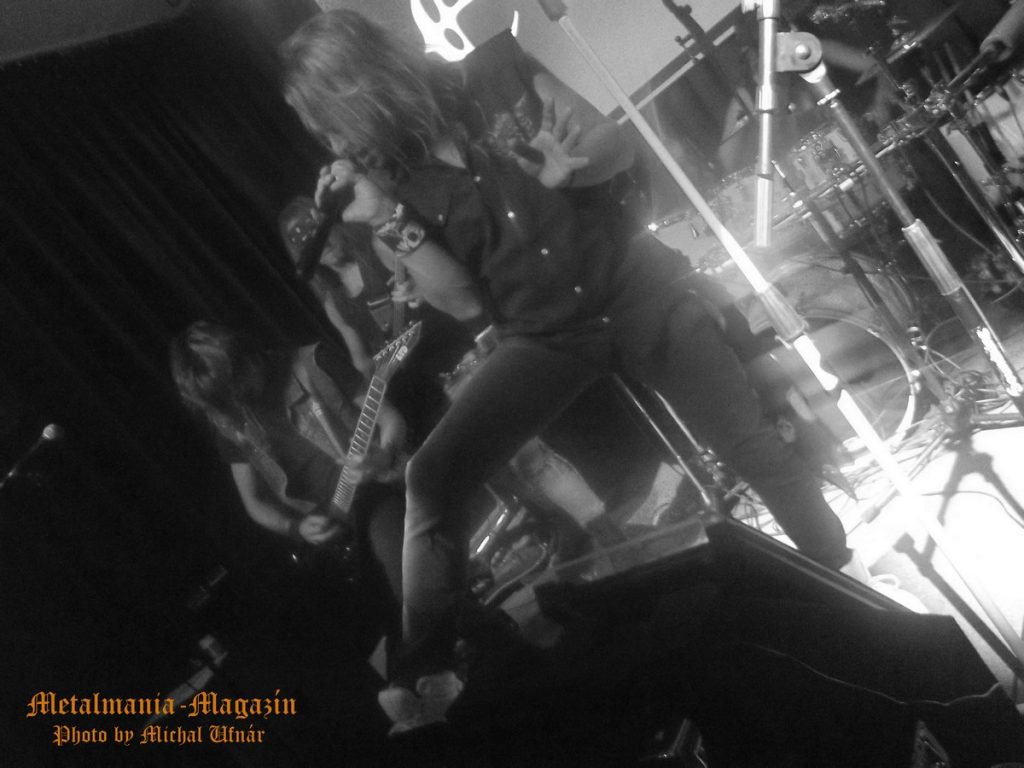 Napriek určitým nedostatkom hodnotím akciu pozitívne. Jasne sa ukázalo, že metalový koncert s dobrou účasťou sa dá spraviť aj v Prešove. Snáď tomu bude tak aj do budúcnosti.
P.S: Ako tradične, nezabudnite si pozrieť foto v galérii o ktoré sa tentorkát postaral Michal Ufnár 🙂