Britský superrock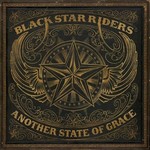 Kdo zná Thin Lizzy, ví o čem je řeč. A ten kdo ne, doplní si vzdělání: Thin Lizzy je britská rocková kapela, jejíž členové založili roku 2012 superskupinu jménem Black Star Riders. Co že znamená definice – superskupina? Označuje kapelu složenou z už předtím slavných instrumentalistů a zpěváků. Jednoduše někdo, kdo už je v podstatě legenda, založil novou kapelu.
Takže už i těm z vás, kteří nebyli v obraze, musí být jasné, že od Black Star Riders se hned ze začátku očekávala dokonalost sama. A jaká že je jejich hudba? Zvučná, energická, svižná a podmanivá. Je to hudba, která nikoho neurazí, ovšem zaujme. Ricky Warwick má vynikající hlas a bude jedním z hlavních důvodů, proč už po pár skladbách poznáte rukopis Black Star Riders u každého jejich songu. Stejně tak je u některých písní znát Warwickův irský původ a rohatý ví, že to vůbec není na škodu.
Čtvrté album
Pokud nebudeme počítat desky Thin Lizzy, je Another state of grace teprve čtvrtým albem. Což na jednu stranu není moc, ovšem je potřeba vzít na vědomí, že ti mladší z kapely hrají "teprve" od devadesátých let. Ovšem třeba takový kytarista Scott Gorham, aktivně hrající od roku 1974, dává tušit, že hudba bude sebejistá, přímočará, ovšem zároveň i nečekaná a všechny příznivce rockové hudby minimálně potěší, ovšem mnohem spíše nadchne.
Univerzálně poslouchatelné
V klidu doma, v práci, jen tak, nebo jako kulisu na nějaké oslavě. To je jen několik způsobů, jakými si lze toto album poslechnout. Ačkoliv je to osobitá hudba, není vtíravá. Ricky Warwick zpívá podmanivě, ale ne slizce, či snad vlezle. Hudba je to tak ideálně neutrální, že pravděpodobně neurazí ani ty, kteří rockovou hudbu nemusí. A ačkoliv hudba přívržence Thin Lizzy a Black star riders nepřekvapí, je to dalších 10 písní, které si oblíbí a budou s radostí poslouchat.
Lineup:
Ricky Warwick – spev
Scott Gorham – gitary
Christian Martucci – gitary
Robbie Crane – basa
Chad Szeliga – bicie
Tracklist:
Tonight The Moonlight Let Me Down
Another State Of Grace
Ain't The End Of The World
Underneath The Afterglow
Soldier In The Ghetto
Why Do You Love Your Guns
Standing In The Line Of Fire
What Will It Take
In The Shadow Of the War Machine
Poisoned Heart
Rok vydania: 2019
Vydavateľstvo: Nuclear Blast
Youtube ukážka:
Linky:
http://blackstarriders.com/
https://www.facebook.com/BlackStarRidersOfficial/
Hodnotenie:  5/6