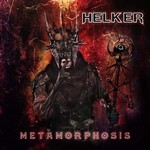 Podľa môjho skromného názoru je ôsmy album argentínskej kapely Helker, power metalový album roka 2019. Daná formácia vznikla v Buenos Aires na konci deväťdesiatych rokov a každý z ich album priniesol niečo svieže.
Strednotempový power metal skôr evokuje americké spolky, alebo tvrdšie veci od Primal Fear. Vynikajúci hlas hlasového pedagóga Aarona Brigliu doslova dominuje nahrávke. Jeho hlas znie ako keby Jorn Lande a Tim Owens mali spolu dieťa. 🙂
Od prvej do poslednej pecky si to užívate bez vážnejších zaváhaní. Priznávam sa, že prvý krát som to do konca ani nedopočúval, lebo som sa zasekol pri pop metalovej Running On and On a tu som počúval dookola až do večera. Ale na druhý deň som to napravil a užil si album celý. Milujem skutočne originálne intro Ressurection aj následný útok na naše sluchovody Ride The Winds To Immortality. Dnes je môj favorit jednoznačne You Are Living Under Lies. Tá je možno najpomalejšia z celej platne, ale rozhodne aj najtvrdšia. Far Away by bol skvelý singel, pri Fairy Tale vás doslova napadne thrash metal a záver patrí skladbe Crises, spievanej v portugalštine.
Tento album rozhodne uviazne v hlave a nedostanete ho odtiaľ. Výnimočná kapela čo by si zaslúžila veľké miesto na trhu anahradiť obohraté štvor akordové power metale z EU. Dúfam, že sa tomu tak stane v najbližšej dobe.
Lineup:
Aaron Briglia – spev
Mariano Ríos – gitary
Leo Aristu – gitary
Lucas Garay Basualdo – basa
Hernán Coronel – bicie
Hostia:
Javier Setti – vokál (12)
Fernando Acedo – gitary (12)
Tracklist:
Resurrection (instrumental)
Ride the Winds to Immortality
Chaos
Shadows and Demons
Running On and On
Living Under Lies
Virtual World
No One Lives Forever
Far Away
No More Tears
Fairy Tale
Crisis (Tango version)
Rok vydania: 2019
Vydavateľstvo: BVMusic
Youtube ukážka:

Linky:
https://www.facebook.com/helkermetal
https://www.youtube.com/user/helkermetal
Hodnotenie: 5,5/6