Pražští Tengri jsou bezesporu zajímavých úkazem českého post-rocku. Čerstvě mají na kontě splitko s kapelou Drom, které vyšlo na konci května u vydavatelství MetalGate. Pro Tengri se jedná o jedinečný počin i z toho hlediska, že vůbec poprvé zapojili do své muziky zpěv. O krásném vinylovém vydání, muzice Tengri i scéně jako takové jsme si povídali s kytaristou Jardou.
Splitko s Drom je venku. Jaké jsou vaše pocity?
K vydání splitu u nás vedla poměrně dlouhá cesta, během které jsme se o sobě zase něco dozvěděli a zjistili, co nám moc nejde… a naopak, kde jsou naše silnější stránky. V každém případě celý proces provázela radost a zábava z tvoření. Samotné vydání nese vedle radosti i dávku zadostiučinění a pocit sklizení věcí ze stolu.
Drom jsou vaši přátelé… Cítíte obecně na scéně spíše rivalitu, nebo právě přátelství? Které další kapely byste zmínili?
S Drom nás krom kamarádství a spousty parádních, nejen hudebních, zážitků pojí i velmi podobné smýšlení a přístup k mnoha věcem, kde výraz jako rivalita je něco, nad čím se člověk může jen pousmát. Díkybohu naše "scéna" stojí na podobných principech a hodnotách, člověk má silný pocit sounáležitosti, rovnosti a opravdovosti. Kapely/lidi, se kterými se takhle cítíme, jsou desítky, zmínit určitě musíme party jako Nulajednanulanula, Le Bain de Maid, Zmar, Hadem pro mého Munga….
UR vyšlo na krásném vinylu. Je podle vás tohle cesta, jak k lidem v dnešní digitální době dostat fyzické nosiče?
Vizuální zpracování vinylu je skutečně parádní a skvěle koresponduje s hloubkou a atmosférou, kterou v celém počinu cítíme. Jestli to je cesta, jak k lidem dostat fyzické nosiče, opravdu nevíme. Víme dobře, jaká je doba a jak se věci mají. My nemáme ambice mít z muziky peníze a nemáme ani potřebu oslovovat davy posluchačů. I přes perfektní propagaci MetalGatu si spíše myslíme, že vinyl skončí ve sbírce jen několika mála "zasvěcených". Tato volnost a svoboda nám ale umožňuje dělat věci podle sebe, zároveň si nelámat hlavu s něčím, co se třeba nemuselo úplně povést podle představ.
Poprvé jste použili zpěv… Proč?
Zpěvy jsme chtěli mít v kapele už od začátku, narazili jsme ale na praktické problémy, třeba že na to nikdo z nás neměl hlasivky, natož k tomu ještě hrát na kytaru. Na splitu je to víceméně experiment, tak uvidíme. Není vyloučené, že zpěvy budeme v budoucnu využívat častěji.
Nechystáte také dlouhohrající album?
Plnohodnotnou desku bychom chtěli nahrát už letos, materiál pomalu kompletujeme, tak jsme na to natěšení. Nově věci představují nové emoce a nové výzvy. Je potřeba je zaznamenat, dokud jsou ryzí.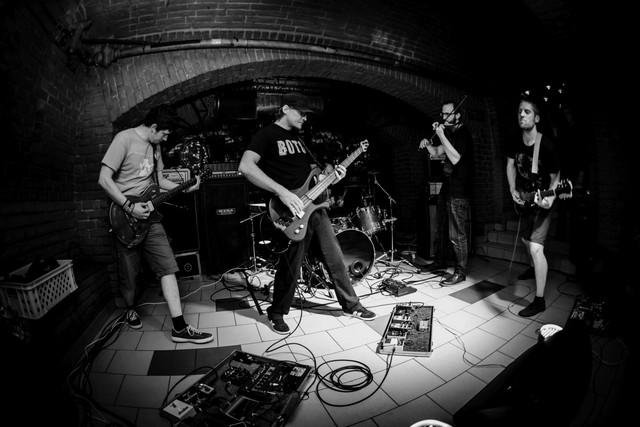 Jakou posluchačskou základnu má u nás post-rock?
Soudě dle návštěvnosti našich akcí je posluchačská základna velmi úzká, my jsme ale malá kapela, která do propagace investuje jen naprosté minimum, takže odpověď na tuhle otázku budou schopni zodpovědět spíš promotéři větších kapel a akcí. Ale rozhodně to není z naší strany nějaká stížnost, užijeme si stejně koncert pro dva nebo sto lidí. Muzika je živá, když ji někdo hraje nehledě na to, jestli ji někdo poslouchá.
Hudba na splitku vyžaduje plnou posluchačovu pozornost. Dokážou se dnes lidé zastavit a proniknout více do hloubky muziky?
Muzika, kterou děláme, je mimo jiné i zrcadlem našich vnitřních potřeb. Zastavit se a jen rozjímat, vnímat a cítit, to je za současného chodu věcí ve světě přeplněném informacemi čím dál složitější. Dá se asi říct, že naše tvorba je vlastně odpovědí na volání těchto potřeb.
Sami o sobě říkáte, že neumíte moc hrát. Podle mě je u vás důležitější dostat do muziky emoce, což se daří. Souhlasíte?
Je to tak, na to, co hrajeme, vážně není potřeba bůhvíjaká technická zručnost, čehož jsme důkazem. Mít ale určitý technický polštář nikdy není na škodu a člověk si tu muziku ve výsledku i více užije. Problém určitě nastává v momentě, když vás technika limituje v tvorbě, pak vstupují do hry kompromisy a slevování na nárocích a tím hudba velmi trpí. V tomto směru bychom u sebe určitě našli prostor pro zdokonalení.
A pak tu máme atmosféru… Je pro vás důležitá?
Atmosféra může v hudbě znamenat více věcí a každý ji vnímá a prožívá po svém. Co je skutečně zásadní, je nastavení mysli a míra, s jakou je člověk, jak interpret, tak posluchač, schopen se hudbě odevzdat a jak hluboko je schopen se do ní ponořit. Nejsilnější chvíle si rozhodně spojujeme se stavem, kdy je člověk totálně oddán zvuku a nechává ho bez zábran sama sebou procházet.
Split s Drom ke koupi zde: https://www.metalgate-eshop.cz/TENGRI-DROM-UR-LP-d880.htm
Stream:
Václav Votruba
Zdroj: Ondra Šmejkal/metalgate.cz