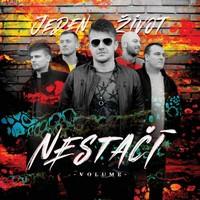 Trenčania Volume patria medzi najrýchlejšie rastúce formácie slovenskej rockovej scény. Ilustruje to aj ich najnovší album Jeden život nestačí. Po jeho vydaní sa však udiala zmena zostavy. Odišiel basák Ján Omelka.
Ak chce kapela dokázať svoju silu a opodstatnenosť, mala by sa vyvíjať a neservírovať ľuďom množstvo platní s prakticky totožnou muzikou.
Tejto bande sa to celkom darí. Už pri prvých minútach si všimnete, že je to iný materiál, ako predošlá nahrávka Pravá tvár.
No keď sa nevystrašíte a dáte mu šancu, objavíte jeho poklady. Chlapci idú na to viac melodicky. Z  ,,agresivity"  toho veľa neostalo (výnimkou je asi Spoznáš čo máš).
Čo ostalo je typický Majov vokál, jeho typické gitary (Stále to cítim napr.) a aj množstvo chytľavých refrénov  a energických piesní (trebárs titulná – Jeden život nestačí). Nájdeme tu aj typickú baladu so silným textom – Význam zlých slov, v čom táto kapela bola vždy veľmi silná.
Ohľadom textov treba spomenúť aj dvanástku Ďakujem – krásne poďakovanie fanúšikom: ,,Vy píšete príbeh, ktorý z mysle nezíde, kým na pódium vyjdem je stále váš, vďaka vám…"
Zaujímavosťou je aj spolupráca Rasťa Tomana (Desmod), ale nebojte sa. Volume sa na ,,druhý Desmod" určite nemenia.
V prípade, že vám jeden život nestačí, určite dajte tejto platni šancu.
Lineup:
Majo Krátky – spev, gitary
Mišo Koštialik – gitary
Maťo Stískala – klávesy
Jano Omelka – basa
Ľubo Bobák – bicie, perkusie
Hostia:
Tracklist:
Jeden život nestačí
To čo má prísť
Všetko raz prebolí
Stále to cítim
Bolo to dávno
Zombie
Hľadaj so mnou
Spomienka
Význam zlých slov
Spoznáš čo máš
Cieľ
Ďakujem
Všetky tvoje farby
Málo
Rok vydania: 2021
Vydavateľstvo: Samovydanie
Youtube ukážka:
Linky:
http://www.volumeband.sk/index.php
https://www.facebook.com/volumetn/
http://bandzone.cz/volumetn
https://www.instagram.com/volumeslovakia/
Hodnotenie: 5/6